Gain Unparalleled Insights into Heart Disease
with the Makoto™ Intravascular Imaging System
There are still broad swaths of uncharted territories concerning the role lipid core plaques play in heart disease. Now, you can achieve unparalleled insights with the Dualpro™ IVUS+NIRS catheter and its accompanying Makoto Intravascular Imaging System, the only FDA-cleared dual-modality catheter and imaging system indicated for the identification of patients and plaques at increased risk of major adverse cardiac events (MACE).
By analyzing both structural and compositional data you can learn about the e­ffects of specific treatments on plaque size and lipid core content, develop novel preventative approaches for plaque stabilization, study regression of plaque size and composition, or guide the use of existing therapies.
The system automatically quantifies the total lipid core in regions of interest as the Lipid Core Burden Index (LCBI). LCBI numbers can be directly compared with prior validation studies for greater understanding of the underlying tissue pathology and to make associations with the published literature for outcomes related to LCBI.
Anything else and you are leaving valuable data on the table.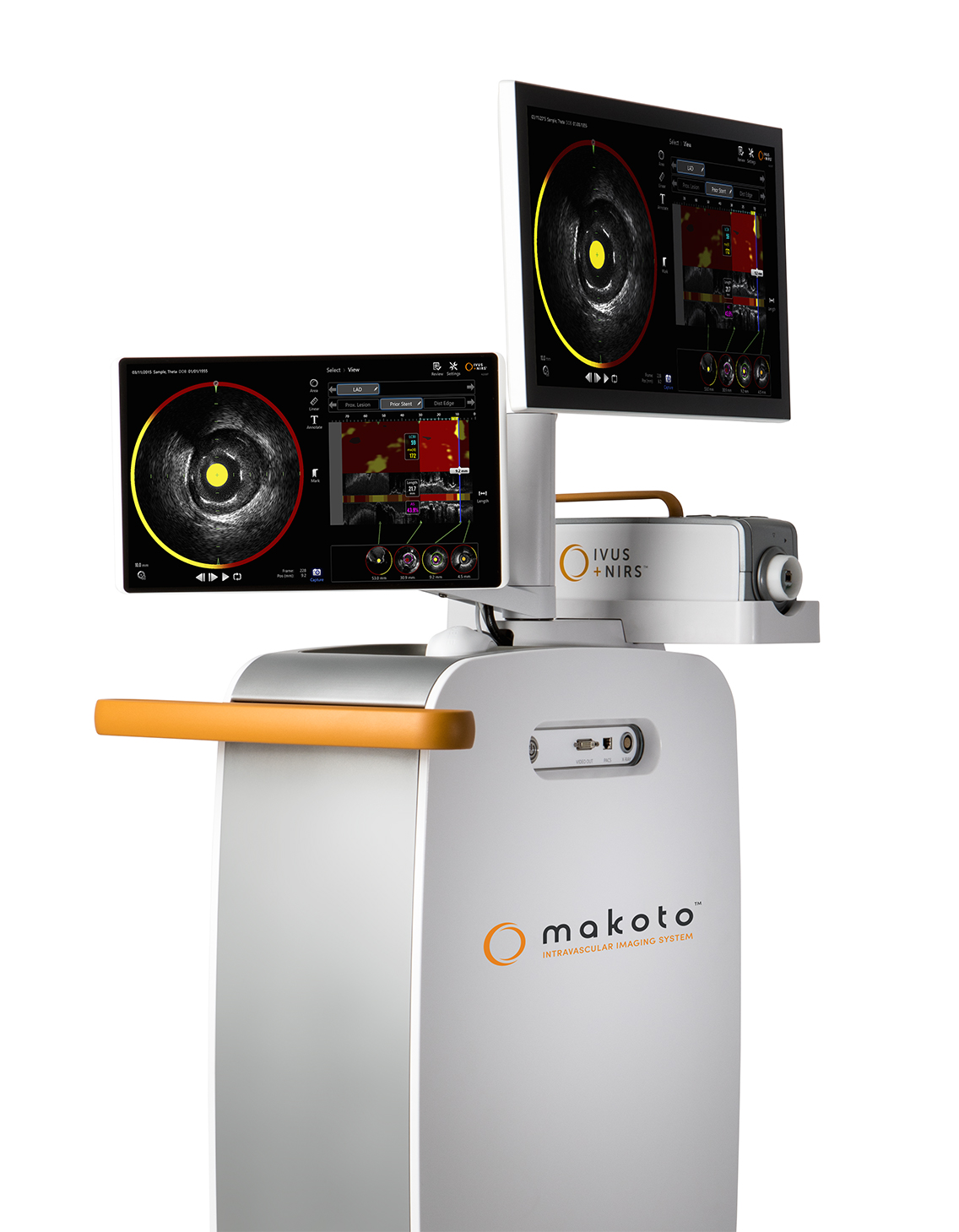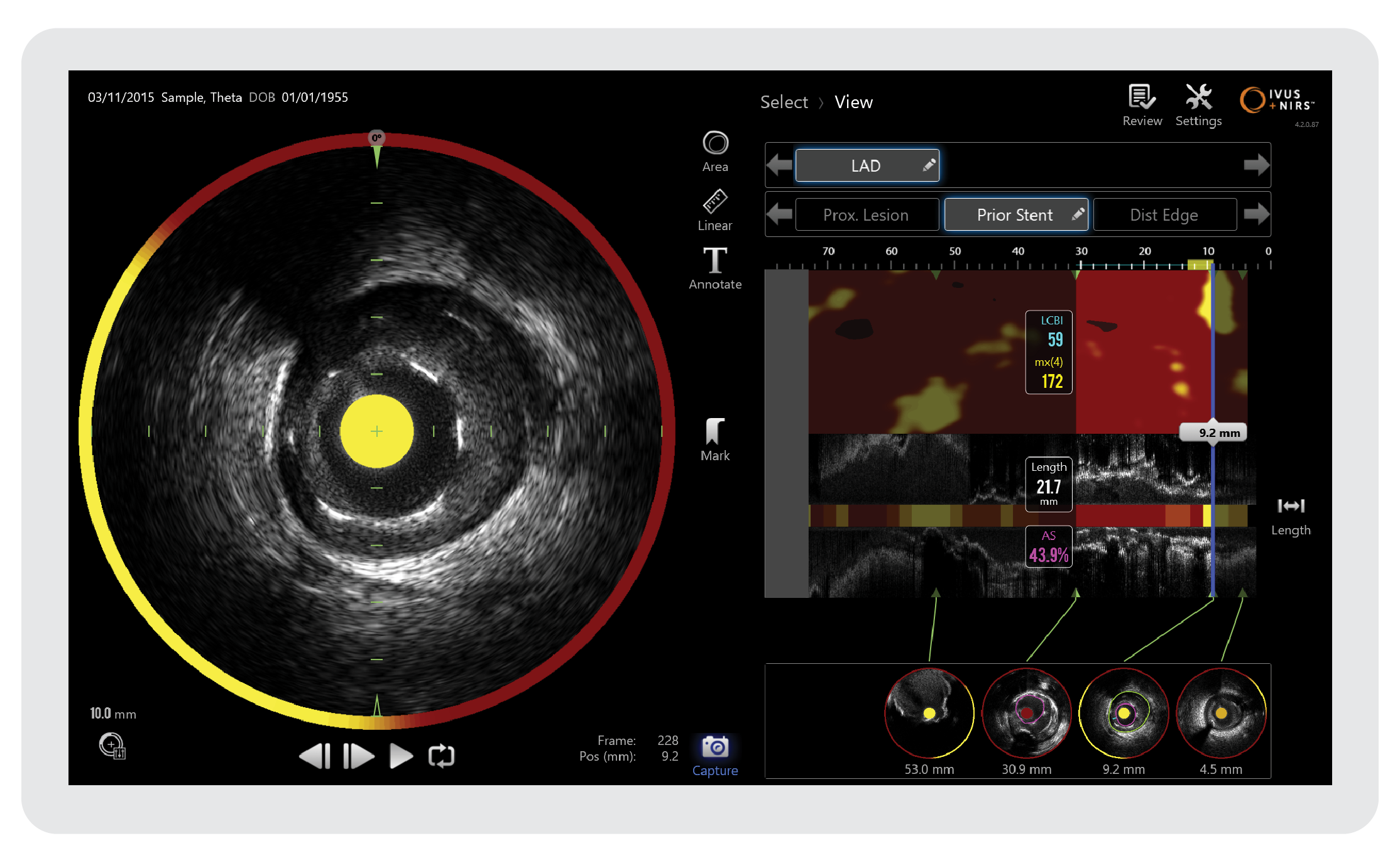 Simultaneous co-registered acquisition of IVUS and NIRS for quick, easy and comprehensive analysis
Lipid Core Burden Index (LCBI) for quantification of lipid core in the scanned region
Proprietary Chemogram for easy-to-interpret detection of the presence of lipid core
Make confident intervention decisions with the aid of the Lipid Core Burden Index (LCBI) and the simultaneous co-registered acquisition of IVUS and NIRS.
Reach for the
Dualpro™ IVUS+NIRS catheter.
Anything else and you are leaving valuable data on the table.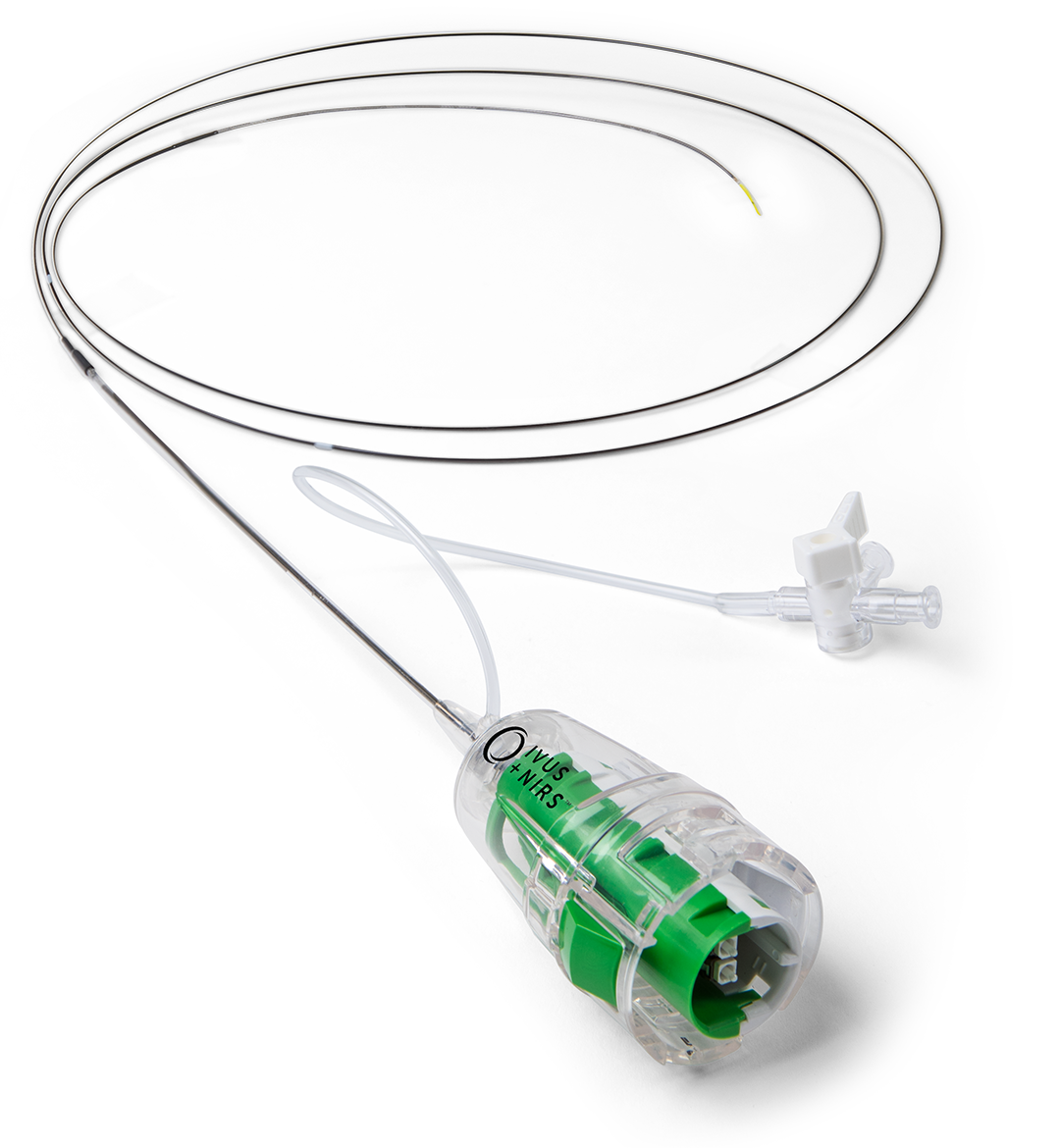 See a Crisper Image of Vessel Structure
with the Dualpro IVUS
Dualpro™ is the only intravascular imaging catheter on the market today utilizing extended bandwidth IVUS technology. By emitting and carefully processing a broad band of frequencies, the Dualpro IVUS brings you best-in-class image resolution without compromising depth of field.
With a crisper IVUS image of the vessel structure you can more easily identify the degree of stenosis, visualize and quantify plaque burden, determine the landing zone for a stent and assure proper stent deployment.
Unique Extended Bandwidth IVUS Technology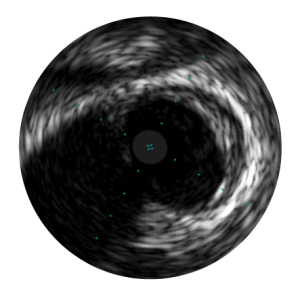 Competitor IVUS Image
20 MHz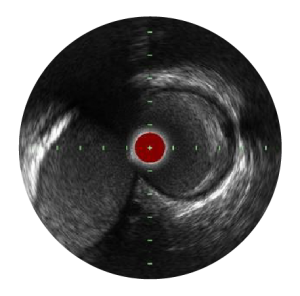 Dualpro IVUS Image 35-65 MHz extended bandwidth
Reveal the Value of Plaque Composition
with the Dualpro NIRS
Dualpro™ is the only intravascular imaging catheter equipped with Near-Infrared Spectroscopy (NIRS) technology. Now you can easily identify unstable Lipid Core Plaque (LCP) – a well-documented culprit in heart disease associated with 95% of STEMIs and an increased risk of peri-procedural complications.1, 2
With the power of NIRS, you can gain insights into a plaque's composition and can readily distinguish between stable plaque and dangerous LCP. Learn how NIRS data is collected and simplified into a single image you can trust.
Download PDF
Chemogram Displays Lipid Core Plaque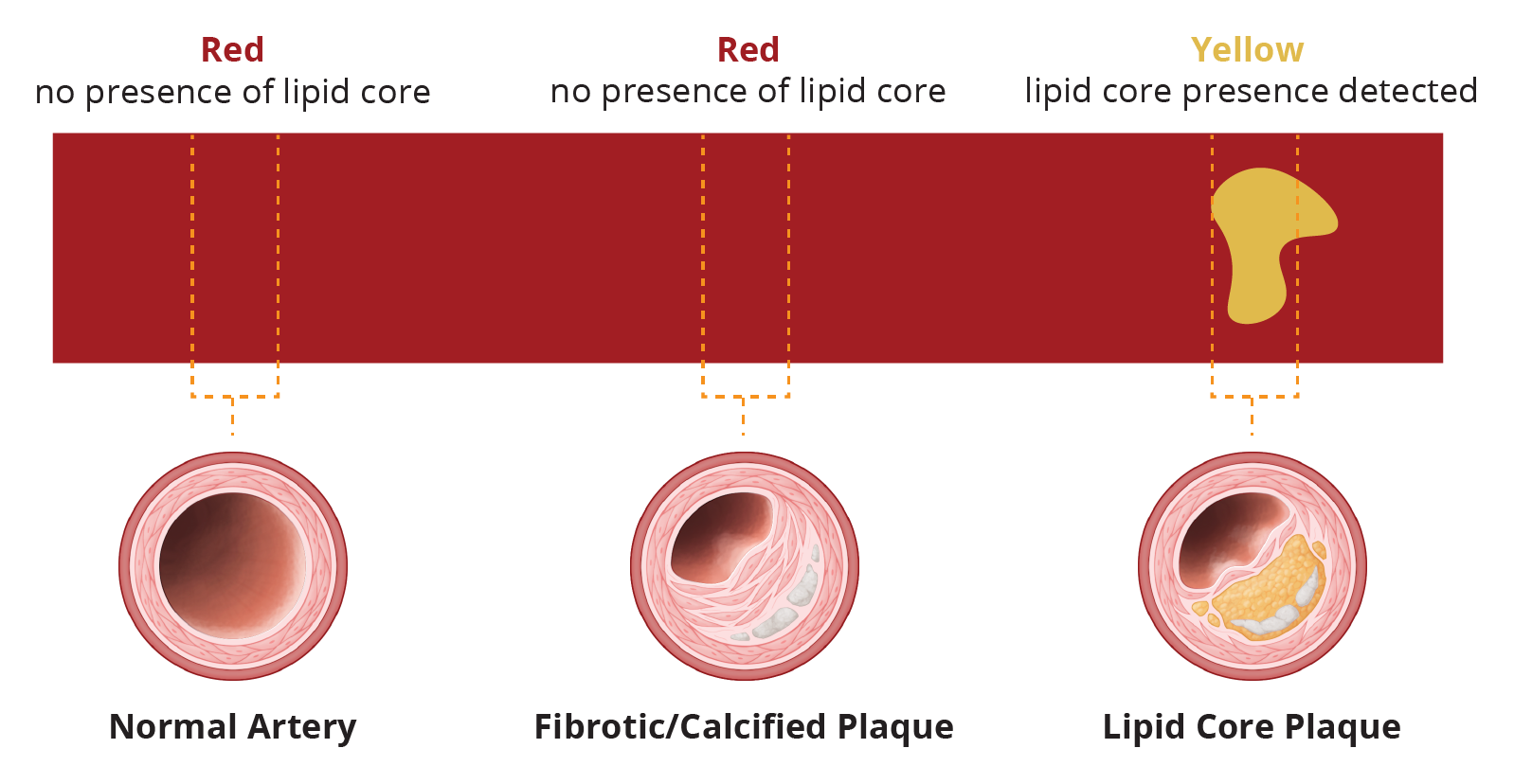 The Evidence is Clear:
NIRS-identified Lipid Core Plaque has been clinically shown to predict MACE
LRP: Assessment of Coronary Near-Infrared Spectroscopy Imaging to Detect Vulnerable Plaques and Vulnerable Patients
Ron Waksman, et al.
CONCLUSION:
Multi-vessel NIRS can be easily and safely performed to assess and identify vulnerable patients and vulnerable plaques. Intravascular NIRS imaging in mildly or non-obstructive coronary arteries can be used as a tool to identify both patients and non-culprit arteries at high risk for future events and should be considered for use in patients undergoing cardiac catheterization with possible PCI.
Learn more about the study results presented by PI Ron Waksman at TCT 2018 in San Diego

View the Late-Breaking Clinical Trial presentation

Don't Guess. See.
Gain twice the insights into Coronary Artery Disease with IVUS+NIRS. See how combination IVUS+NIRS imaging offers cardiologists unparalleled insights into the role LCP plays in heart disease.
Visit us at the following conferences:
Sign up to receive more information

References
1 Detection by NIRS of LCPs at Culprit Sites in Patients with Acute STEMI, Madder et al, JACC Cardiovasc Interv. 2013
2 Detection of LCPs by intracoronary NIRS Identifies High Risk of Periprocedural MI, Goldstein et al, Circ Cardiovasc Interv. 2011